"INFODEMIC" was an Erasmus+ strategic partnership project which involved partners from Poland, Bulgaria, Estonia, Malta and Turkey. Eesti People to People NGO was one of the partners in this project.
During the project life-cycle, the partners developed a guide of best practices for teachers and youth workers in the field of media literacy education. Media literacy, capacity to access, have a critical understanding and interact with the media have never been as important as in today's society. It enables citizens of all ages to navigate the modern news environment and take informed decisions. As we spend more and more time at home, we increasingly rely on the Internet for working remotely or video calling relatives and friends. During times of uncertainty, engaging with information that is trustworthy is more important than ever.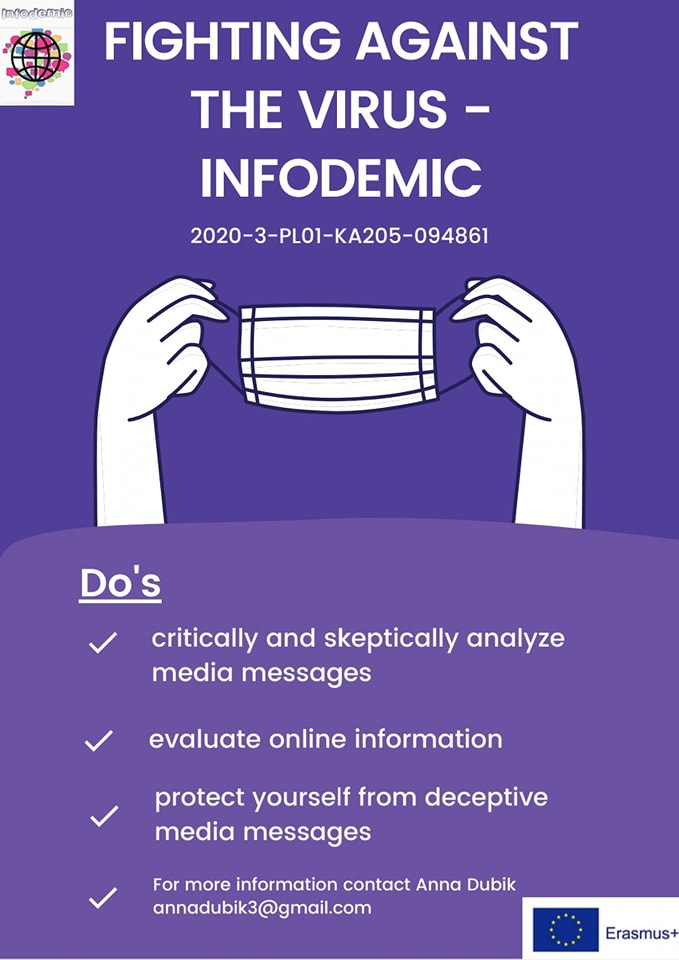 The infodemic highlights the important role media literacy plays in all aspects of life, including during moments of crisis. Media literacy education is key in ensuring that individuals can find the real facts among all of the half-truths being shared online and beyond, especially when it can literally be a matter of life or death. Media literacy is not only a matter of education, it can also be a matter of public safety.
Project partners developed critical thinking skills of youth workers and raise the partners' organisations capacity in the field of new media literacy in five partners' countries to contribute to the quality of life of young people, emergence of new approaches and development of a more inclusive, tolerant, peaceful society and develop the quality and potential of digital youth work.
The project was built on the rationale that by becoming media literate, youth are able to critically and sceptically analyse media messages they encounter every day, become wiser consumers of media who are capable of evaluating online information and are able to protect themselves from deceptive media messages.
The project results are a website with all the info about the project, objectives, activities, downloadable outputs, also a platform on "'Media Literacy for Inclusion" with a collection of demand-oriented tools and methods, training programmes, formats for awareness raising activities, short films created during the project life cycle about media literacy education and a booklet of exchange of best practices. In the guide book partners share the methodologies being already used in partner organizations or developed altogether with the experiences gained during the project implementation to non-formally educate youngsters in topics of media literacy, checking the facts, hoaxes and media propaganda.
The project included four transnational meetings dedicated to the project management, analysis of specific best practices adopted and identified by each partner. There was the training course in Malta to exchange experience, tools and best practices concerning media literacy education especially for youth from disadvantaged backgrounds at local/national level, to adapt and transfer the best practices identified in the five partner countries methodologies based on formal/non-formal education and organise testing activities in each project partners' country in order to share, analyse, evaluate and adapt best practices selected during the training.
Youth workers enlarged their knowledge and improve skills on the education of media literacy by sharing and exchanging experiences and best practices with other youth workers in Europe. The project had a positive impact on youth workers – trainers in terms of better understanding of the project topics – disinformation, media literacy, critical thinking, developing critical thinking and media literacy skills to transmit to young people their work with in order to foster their ability to recognise disinformation and counteract on its side effects by changing narratives, increased competences and put into practice knowledge and new skills acquired in the daily work, thus developing youth critical thinking and promote their participation in their society and countries fighting against disinformation and its side effects.
Youth participated in the local testing sessions of the best practices and evaluated them with questionnaires. Project empowered and created a responsible population that can identify, prevent and block misinformation.
Read more about the project and Infodemic materials on the project website: